About The Stockport Canal Boat Trust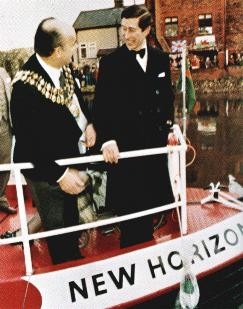 New Horizons, the Trust's Canal Boat, was launched by HRH The Prince of Wales in 1981. It is operated as a registered charity, Stockport Canal Boat Trust for Disabled People (Charity No: 1075844), established by the Mayor of Stockport, L Gordon Bayley MBE, in 1980. Gordon Bayley organised the fund raising, design and building of the Boat as he was a keen canal boater as well as having an interest in disabilities. Consequently the facilities are designed to assist disabled people and those with limited mobility.
New Horizons has had only had 4 skippers in more than 30 years of operation. The Charity is managed by a Board of Trustees who are responsible for the effective and efficient running of the Charity. The day to day work of the Boat is carried out by a Skipper and a willing band of volunteers.
Over the lifetime of New Horizons it is estimated that over 50,000 passengers have been carried by the boat from its base at the junction of the Macclesfield and Peak Forest Canals in Marple.
The Trust receives no support from any statutory body so finances have to be arranged via donations, sponsorship, bequests and fund raising activities to cover operating costs. For further details please email the Chairman Sue Woodgate using the contact form below.
Contact Sue Woodgate (Chairman)
If your enquiry is about booking New Horizons please call the Booking Officer on 01332 678 188
64, Glossop Road,
Marple Bridge,
Stockport,
SK6 5EL.
07802700403