An Invitation from the Skipper
Hello!             
I'm Peter, the skipper. The crew and I invite you to come canal cruising with us. Our aim is to ensure that you have a truly memorable trip. So sit back, relax and let us take the strain!
Because we sail smoothly along at 3 to 4 m.p.h. there's ample time to savour the tranquillity of the rural scene. There's canalside nature, 18th. Century canal engineering and breathtaking views.
Perhaps you wish to chat to your fellow passengers or the crew or simply watch the scenery drift slowly by. It's a relaxing trip compared to a coach or car rushing along busy main roads.
Why not join us?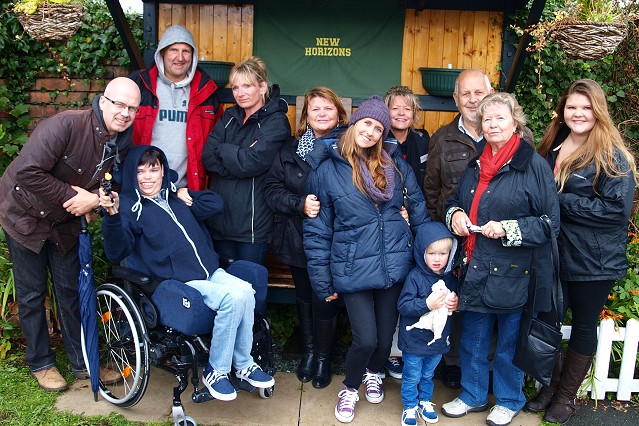 Passengers ready to board New Horizons
Here are some comments from previous passengers:
A great trip, skipper's company made it.'  Fostar, Surrey
A very enjoyable way to spend a Sunday afternoon.'  South Manchester Headway Group
What a lovely peaceful way to spend a day. See you again.'   Barclay Park Nursing Home
Enjoyed it a lot. It's always a good trip.'  Stockport M.S. Society
Helpful crew, enjoyed the trip, many thanks.'  Alderbrook Day Centre
We've all had a brilliant time! Thanks.'  Lancastrian School
A very different and enjoyable experience.'  Royal School For The Deaf